---
CACHE-CACHE CHEZ ARTHUR
A tiny Bitsy game about kid games & loneliness.
︎︎︎
Itch.io
VIDEO GAME, MINIMALISM
RESIDENCE EVIL GAME JAM
finalised



🧒 😐
---
︎︎︎
FANTHOMES
Fanthomes is a multimedia project around legend-making as a community care practice in the digital age. Legend are the first immersive collective fiction and we should be able to make our own.
︎︎︎
Read more
CO-CREATION PROJECT MADE USING VR, 360°, 180° PROJECTION, DIGITAL INTERVENTION ON GOOGLE MAPS, WRITING & COSTUME WORKSHOPS
ART PROJECT
finalised
Exhibited at
Spektrum
With the support of Spektrum, Esch 2022- Capital of Culture & Diversion cinema
🏘️ 👀

---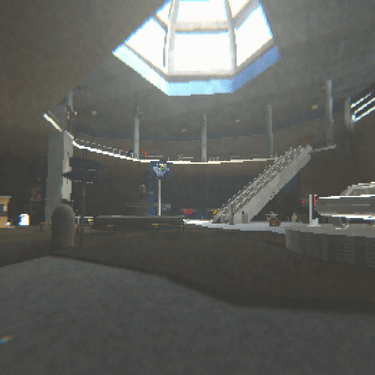 WHERE DO DEAD MALLS GO?

Where Do Dead Malls Go? is a PS1-style exploration/narrative video game by Medulla Studio where you embody a newly employed custodian in the Daylight Mall. This deserted mall still have some collective stories to tell and that's why you're here.

VIDEO GAME, WORLDBUILDING, INTERACTION DESIGN
VIDEO GAME PROJECT
in writing

All4Games award

Aide à l'écriture FAJV/CNC

Daniel Sabatier Award 2021


🛒 🐋
---
COMMUN-

Commun- is a Social VR project conceived after my research in metaverse moderation and the need for people to discover and understand this issue.

VIRTUAL REALITY, METAVERSE
VR PROJECT
in writing

Résidence d'écriture immersive Fisheye 2022


🔪 🤝

---
SAD DAISY

A depressive marguerite living on the walls of Lyon, Paris & Antony, where people wonders why she's as sad as them. She also lived on objects, embroideries, graffitis. She's a mediumless flower.

STREET ART COLLAGE, ILLUSTRATION

STREET ART PROJECT
ongoing


🌼 😔
---
PING
PING is an alt-controller game using AR to capture the player's movement which then becomes the paddle of the famous PONG game. Played alone, the game is only one-sided and the fun never lasts very long.
︎︎︎
Itch.io
VIDEO GAME, AR
ALT CTRL GAME JAM PROJECT
finalised

Gaité Lyrique
Alt Controller Game Jam


🕹️ 👾
---
︎︎︎
SAFE DANS LE MÉTAVERS
Safe dans le Métavers is a research paper about metaverse moderation, written (in french) for Gobelins/CNAM-ENJMIN post-master degree in Interaction Design.
︎︎︎
Read more
RESEARCH, METAVERSE MODERATION
RESEARCH PROJECT
finalised


📝
---
MOURIR DEMAIN

Mourir demain is a Doom 2 mod created as a tribute to ELOI - Victoire music song, using intrinsic violence of the game to talk about cop violence & youngster angst.

VIDEO GAME MOD, LISTENING SESSION
MUSIC VIDEO GAME PROJECT finalised


👮‍♂️🎵
---
STOCK PHOTOGRAPHY
Bad stock photo can be harmful for an industry image and can lead to stereotypes, technical confusion & more. The project aimed to give away beautiful free stock photo of VR installation on ︎︎︎
Unsplash
.
PHOTOGRAPHY, COMMUNICATION, DIGITAL INTERVENTION
PHOTO PROJECT
finalised

Featured on Unsplash, Adobe XD, Hindustan Times, World Economic Forum, Le Centquatre-Paris.


📷
---
TRASH COSTUMES

A photo serie made during pandemic, using costumes made of trash to represent my worst default.

PHOTOGRAPHY, COSTUME
PHOTO PROJECT
finalised
Exhibited at Carbone17 as part of
Quarantaine.fun
exhibition

🚮 📷
---