---
FANTHOMES
SPEKTRUM - RUMELANGE, LUXEMBOURG - NOV 2022
XR RESIDENCY - SPEKTRUM
with the support of Esch 2022, Diversion cinema, Stad Remeleng.

"Legends as collective low-tech immersion."

Fanthomes is a transmedia experience composed of an immersive introductory film, a digital intervention on Google Maps, and in situ installations throughout the city. The latter allows the public to discover – via 360° videos accessible with QR codes – the collective stories of these neo-legends that haunt the land.

︎︎︎

#1 Legend-Making


WRITING & COSTUMES WORKSHOPS WITH CITIZENS
Sainte Barbe, Haus Mobil, Magichien, Utopus, Goblin Gang, Boobiboulga, Jemp, Gerart & Sign Golem are all neo-legends created or remixed during a two-weeks workshops with citizens. Legends were useful to present some values & dilemmas to people : Here, each story tells a bit about our link to territories, and is deeply rooted in livelihood in Rumelange.


9 CO-CREATED NEO-LEGENDS OF RUMELANGE

REVEALING LEGENDS DURING THE OPENING
For Spektrum opening, a dedicated room was created for Fanthomes : Inside, you could have a introduction to the project concept. With this 5-min-180°-movie, audience could observe strange phenomenom happening in their city landscape, fostered by graphic elements coming from the art of Youtube thumbnail. Around them, they could already witness the real object from these collective fictions.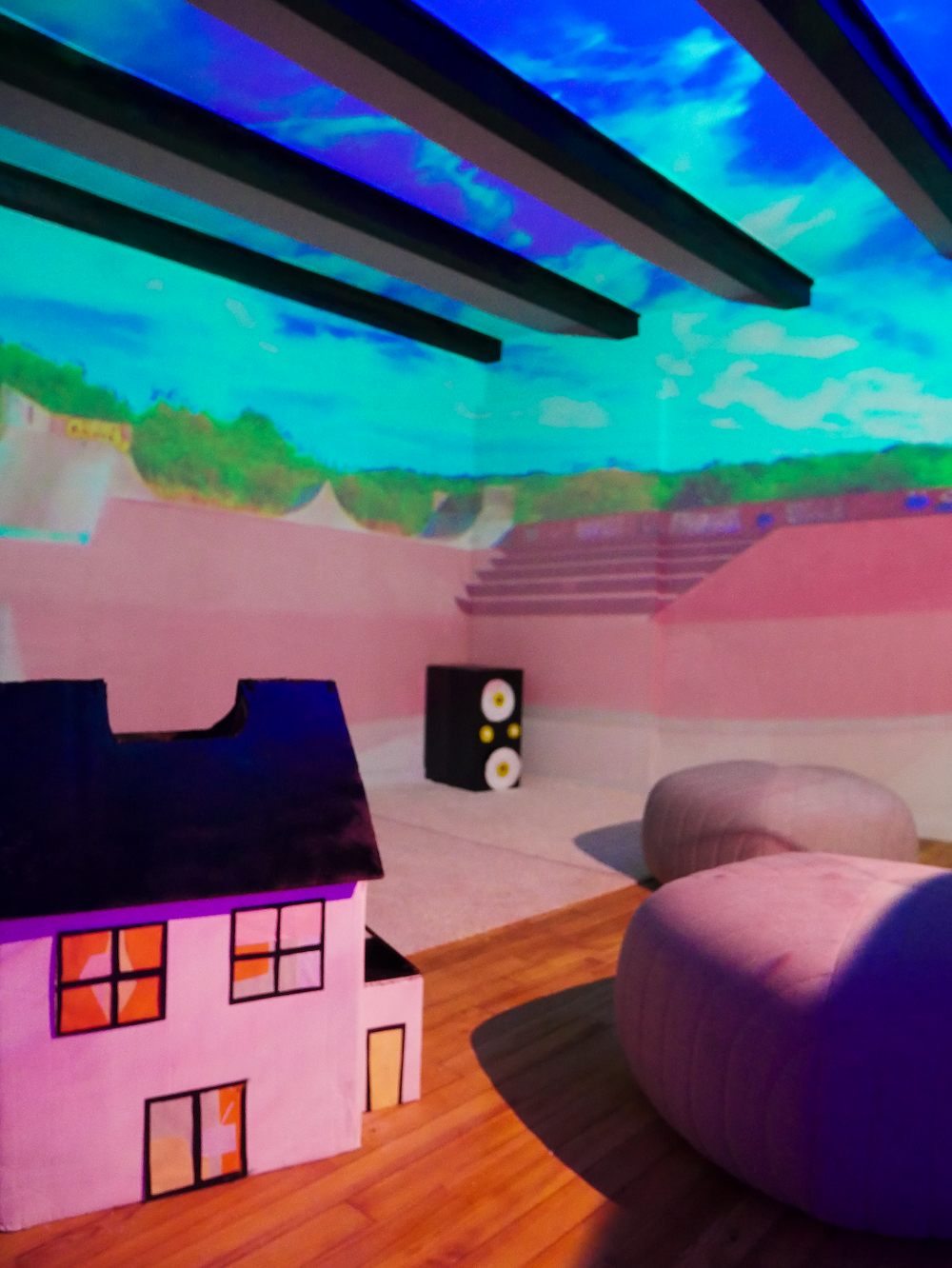 INTRODUCTIVE IMMERSIVE INSTALLATION IN SPEKTRUM
STILL FROM THE INTRODUCTORY IMMERSIVE MOVIE


#2 Physical & virtual immersion

FANTHOMES MAP



A PHYSICAL MATTER TO FICTION
Inside the immersive room, was given a map of the city, with pinpoints in specific places. This neo-touristic set-up had two goal: encourage visitors to visit the city and discover the neo-legends, AND grab citizen's attention onsite.

The legends were now located in very specific places and gave a sense of spatial immersion to the project. On site, you could discover life-size print of each legends with QR Code linking to 360° video presenting their stories.




LEGENDS DISPLAYED IN THE CITY OF RUMELANGE

A DIGITAL INTERVENTION
Added to that, a digital intervention was made on Google Maps. This tools, commonly used for tourism & visits, reveals here our creatures & locations as if it was part of the city.


DIGITAL INTERVENTIONS IN GOOGLE MAPS - RUMELANGE


#3 Low-tech & glitches
In terms of Artistic Direction, the idea was to make the most of ouf what we had. Spoiler; it's mostly trash.

PLAYING WITH ALMOST-DEAD TECH
Working with 360° movie, a medium already "dead" for immersive experts, was a challenge. Why & how use this pixelated, non-interactive version of reality ?
I was more than happy to present a version of Fanthomes legends using the Magic Window of Youtube (a way to watch a 360° movie without headset) in order to gather as much people possible.


MAGIC WINDOW MOVIES


BEHIND THE SCENES ©SPEKTRUM

A GLITCHCORE & DREAMCORE PROJECT
Using glitches was meaningful : the video then appeared as archives, found footages, CCTV. On the other hand, switching colors helped convey a DreamCore style to the videos, a trendy aesthetic used by younger audiences that evoques nostalgia.

Adrien Pflug created a 9-part-music for Fanthomes inspired by DreamCore & Nostalgia.





A project with Lola Duhr, Elijas Duhr, Serena Ouannoughi, Samantha Kanyinda, Diana Real, Liam Akroud, Dana Akroud, Romaysae Johnsen with the technical & creative help of Toyo Fujiyama. Music by Adrien Pflug.
Huge thanks to Spektrum team, Diversion cinema team, the City of Rumelange, the Mines Museum & CinéKursaal.